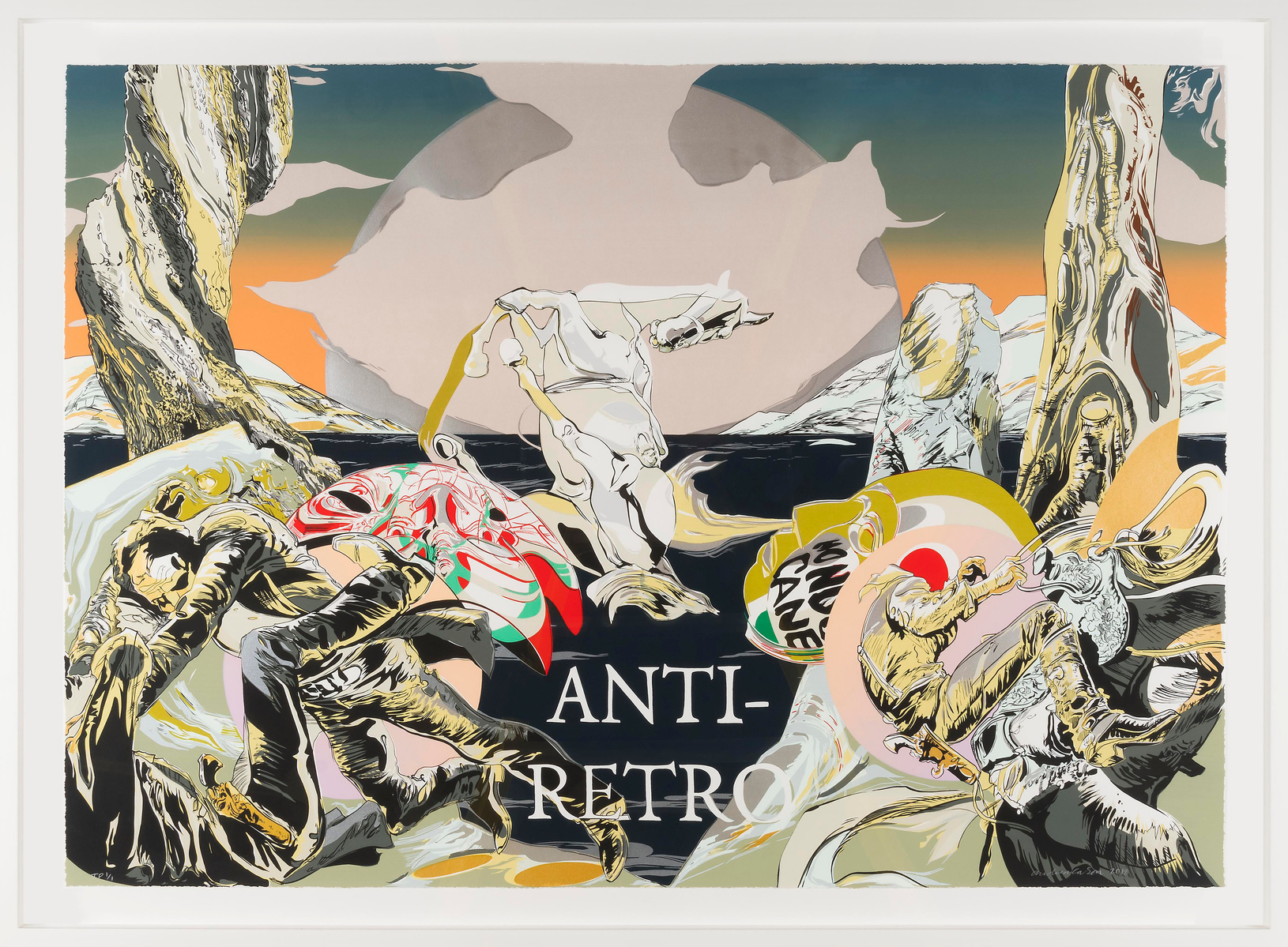 "Popular struggles have become not something that is happening now, but something that might always happen, in our system. And so they have to be set [in film] at a distance once again."
- Michel Foucault ("Anti-Retro" interview, Cahiers Du Cinéma 251-2:1974)
The print Anti-Retro is about reframing the past. I looked to the critical works of several men on the ideas associated with film, gender and genre to gather bibliography: the book Westerns (1996) by Lee Clark Mitchell, the chapter "Politics Surrounded" in The Undercommons (2013) by Stefano Harney and Fred Moten, the comic book series Blueberry (1963-2007) by Jean-Michel Charlier and Jean "Mœbius" Giraud, and a 1974 interview with Michel Foucault published in Cahiers Du Cinéma under the title Anti-Retro.
Landscapes are political. The title Anti-Retro comes from the aforementioned Michel Foucault interview. Although Foucault was talking about the filmic representations of struggles relating to Europe and WW2, it is hard to imagine his conversation of reframing popular memory not applying to films and images of the invasion and conquest of North America. Gerald Vizenor leads his essay, "Socioacupuncture: Mythic Reversals and the Striptease in Four Scenes" with a quote from this Foucault interview,
"There's a battle for and around history going on at this very moment… The intentions is to programme, to stifle what I've called 'popular memory'; and also to propose and impose on people a framework in which to interpret the present."
This battle has been fought with images, and fought hard in the colonization North America. The images may seem to reproduce images of the triumphant "West" but it is my intent to reproduce these images without fear, maim and disfigure those actors – the cowboys – in a fixed state.
Anti-Retro references the film Mondo Cane (1962) in title and imagery, mirrored with a mask that is culturally non-actual. Mondo Cane was a work of fiction spliced with documentary footage to create sensational images on the world's condition. The falling horse at the center of Anti-Retro refers to the first sequential images put on film of a horse running, but this horse is falling, frozen in time and never meeting its end. To the far left and right of the print are two trees: a cottonwood planted in honor of Joseph Beuys's 7000 Oaks from the Walker Art Center's Sculpture Park and the Little Spirit Cedar Tree of Grand Portage, Minnesota. These trees are the visual breaks, blinks or cuts in films surveying a landscape. I've long organized information along endless seascapes, where that infinite line is broken by objects and rocks. This print offers specific trees, named trees as the editors of the land as they segment an unlikely, imaginary horizon together.